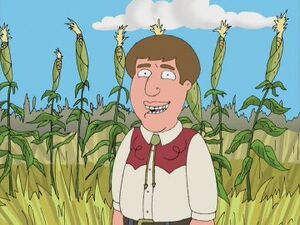 Alvis Edgar Owens, Jr. (August 12, 1929 – March 25, 2006), better known as Buck Owens, was an American singer and guitarist who had 21 number one hits on the Billboard country music charts with his band, the Buckaroos. Owens co-hosted Hee Haw with Roy Clark. The show was inspired by Rowan & Martin's Laugh-In, the major difference being that Hee Haw was far less topical, and was centered on country music. Owens was co-host from 1969 until he left the cast in 1986.
A segue between scenes in "To Love and Die in Dixie" shows Buck hosting Hee Haw.
Buck Owens is voiced by Brian Dunkleman.