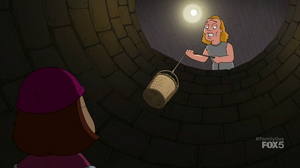 Jame Gumb, known by the nickname Buffalo Bill, is a character in the novel and film The Silence of the Lambs, played by Ted Levine in the film. In both, he is a serial killer who murders overweight women and skins them so he can make a "woman suit" for himself.
Seth Green has long attributed the voice of Chris Griffin to an imitation of Levine that he did during his audition on a dare.[1]
In "Stuck Together, Torn Apart", Stewie teases a girl stuck in a well by quoting Buffalo Bill's line of "It rubs the lotion on its skin or else it gets the hose again."
In "Stew-Roids", Meg and Connie D'Amico embarrass Chris in front of the whole school by showing them a video of him parodying Buffalo Bill's naked dance to the song "Goodbye Horses" from the film.
Meg is kidnapped by Buffalo Bill in "Guy, Robot", but Peter's biggest concern is finding his grocery club card. Bill suggests he simply give them his phone number so they can look it up.