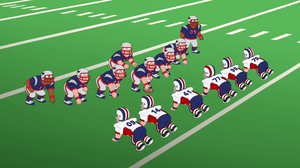 The Buffalo Bills are a professional American football team based in Orchard Park, New York. They are members of the East Division of the American Football Conference (AFC) in the National Football League (NFL). The Bills are the only team to win four consecutive conference championships, and are the only NFL team to play in four consecutive Super Bowl games, all of which they lost.
The Griffins and their friends see the New England Patriots play the Buffalo Bills play at Gillette Stadium in "3 Acts of God", only to have the Patriots lose on a last-second fumble. After the game, comments by C.J. Spiller and Mario Williams thanking God cause Peter to lead a quest to confront God over his anger at the Patriots.
Ad blocker interference detected!
Wikia is a free-to-use site that makes money from advertising. We have a modified experience for viewers using ad blockers

Wikia is not accessible if you've made further modifications. Remove the custom ad blocker rule(s) and the page will load as expected.