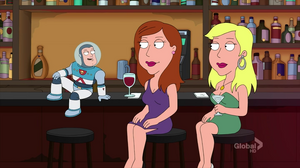 Buzz Lightyear is a fictional character in the Toy Story franchise. He also appeared in the film Buzz Lightyear of Star Command: The Adventure Begins and the television series spin-off Buzz Lightyear of Star Command, as well as the two film sequels. His often repeated catchphrase is "To infinity ... and beyond!" Tim Allen voiced the character in the Toy Story film trilogy and the films, while Patrick Warburton provided Buzz's voice for the TV series. Pat Fraley voiced him for the video games and the attractions in Disney Parks.
In "Chris Cross", Stewie tries to impress Brian with the works of Anne Murray by singing "You Needed Me" before an audience of his toys. After he succeeds in winning over Brian, he notes that all of the toys were impressed but Buzz Lightyear, who was absent. A cutaway gag shows Buzz in a bar picking up girls using his catchphrase.
Buzz Lightyear is voiced by John Viener.
Ad blocker interference detected!
Wikia is a free-to-use site that makes money from advertising. We have a modified experience for viewers using ad blockers

Wikia is not accessible if you've made further modifications. Remove the custom ad blocker rule(s) and the page will load as expected.