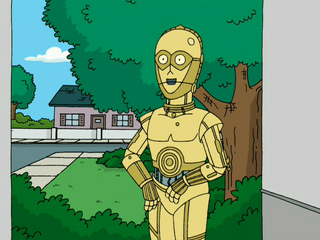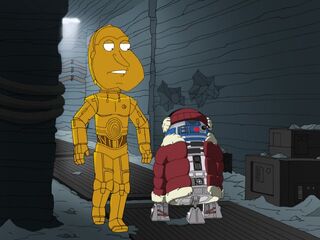 C-3PO or simply Threepio is a character from the Star Wars universe, who appears in both the original and prequel trilogies, portrayed by Anthony Daniels.
He first appears at the end of "Blind Ambition" for Peter Griffin's medal-awarding ceremony which parodied A New Hope.
For Laugh It Up Fuzzball: The Family Guy Trilogy, comprised of Blue Harvest; Something, Something, Something, Dark Side; and It's A Trap!, Threepio is played by Glenn Quagmire, and acquires many of his mannerisms.
External Links
Ad blocker interference detected!
Wikia is a free-to-use site that makes money from advertising. We have a modified experience for viewers using ad blockers

Wikia is not accessible if you've made further modifications. Remove the custom ad blocker rule(s) and the page will load as expected.