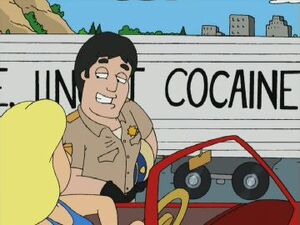 CHiPs is an American television drama series produced by Metro-Goldwyn-Mayer Studios (now owned by Turner Entertainment) that originally aired on NBC from September 15, 1977 to June 17, 1983. CHiPs followed the lives of two motorcycle police officers of the California Highway Patrol. The series ran for 139 episodes over six seasons. It starred Erik Estrada as macho, rambunctious Officer Francis "Ponch" Poncherello and Larry Wilcox as his strait-laced partner, Officer Jonathan "Jon" Baker.
The show was parodied in "I Never Met the Dead Man", where Ponch flirts with a woman while the crook gets away with extremely large quantities of cocaine, along with two people involved in a drive-by shooting.
Ad blocker interference detected!
Wikia is a free-to-use site that makes money from advertising. We have a modified experience for viewers using ad blockers

Wikia is not accessible if you've made further modifications. Remove the custom ad blocker rule(s) and the page will load as expected.