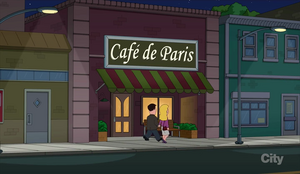 Café de Paris is where Cleveland and Jerome go out for a meal together in "Run, Chris, Run".
As they leave, Jerome notes that they have discovered that neither of the pair like crepes, with Cleveland noting that is another thing they have in common. He then goes on explain that the rest of the guys only think they hang out together because they are black, which Jerome notes is actually the truth, as he dislikes Cleveland's stories about working his remote control, Cleveland Brown, Jr. or how he once made a dog shake it's head "no."
Ad blocker interference detected!
Wikia is a free-to-use site that makes money from advertising. We have a modified experience for viewers using ad blockers

Wikia is not accessible if you've made further modifications. Remove the custom ad blocker rule(s) and the page will load as expected.