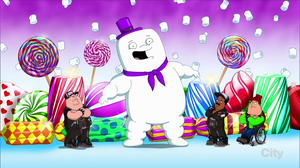 "Come On Home" is a parody of "Bubble Pop" by Hyuna.[1] The song also contains visual references to f(x)'s "Hot Summer", Crayon Pop's "Bar Bar Bar", PSY's "Gangnam Style", "Touch My Body" by Sistar and KARA's "Step".[2][3] Another scene features a naked Peter riding on a marshmallow-shaped wrecking ball, a reference to the music video of "Wrecking Ball" by Miley Cyrus.
During the song, a large marshmallow figure is intended to evoke the Stay Puft Marshmallow Man from Ghostbusters.
According to the DVD commentary, many elements of Winter Summer were influenced by the South Korean drama Winter Sonata.
Ad blocker interference detected!
Wikia is a free-to-use site that makes money from advertising. We have a modified experience for viewers using ad blockers

Wikia is not accessible if you've made further modifications. Remove the custom ad blocker rule(s) and the page will load as expected.