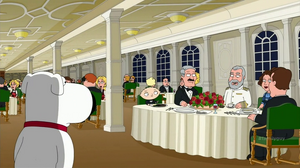 Edward John Smith, RD, RNR (27 January 1850 – 15 April 1912) was an English naval reserve officer. He is best known as the captain of the maiden voyage of the RMS Titanic, which struck an iceberg and sank on 15 April 1912.
In "Stewie, Chris & Brian's Excellent Adventure", Stewie dines at the Captain's table with Captain Smith on the Titanic while searching for Chris during a misadventure in time.
Ad blocker interference detected!
Wikia is a free-to-use site that makes money from advertising. We have a modified experience for viewers using ad blockers

Wikia is not accessible if you've made further modifications. Remove the custom ad blocker rule(s) and the page will load as expected.