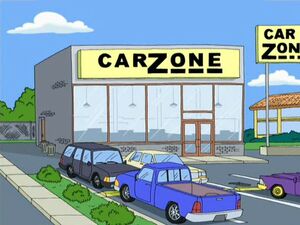 CarZone is an auto parts store in Quahog, Rhode Island.
In "Breaking Out is Hard to Do", Lois Griffin steals a muffler, from which Brian Griffin prevents, and confronts Lois about her problem. She agrees not to and rubs his belly for his support, while trying to steal another, but Brian sees and tells her to put it back.
Ad blocker interference detected!
Wikia is a free-to-use site that makes money from advertising. We have a modified experience for viewers using ad blockers

Wikia is not accessible if you've made further modifications. Remove the custom ad blocker rule(s) and the page will load as expected.