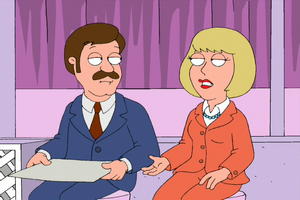 Carol and Nick are contestants on The Newlywed Game in the "Family Guy Viewer Mail No. 1" segment "No Bones About It".
When host Bob Eubanks asks Carol to answer a question about one thing her husband wouldn't give her, she responds with "money." Nick reveals that his actual answer is "the antidote," causing Carol to start to ask what does he mean before she collapses.
Carol is voiced by Rachael MacFarlane.