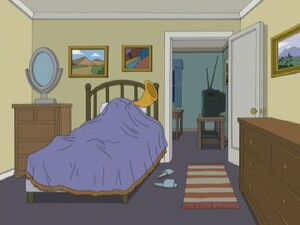 Carol Ann Alt (born December 1, 1960) is an American supermodel and actress.
She appeared in "The Man with Two Brians", when Stewie Griffin compares the injured Brian to Alt. A pair of cutaways to her finds her senility catching up to her, referring to shows like The Family Man and American Boy!. Both times, she is laying in bed under bedsheets, using an ear trumpet.
She also calls out to her husband, which in reality she doesn't have. She was married to former New York Rangers hockey player, Ron Groeschner, from 1983 to 1996. She is in a relationship with Russian hockey player Alexei Yashin, who is 13 years her junior.