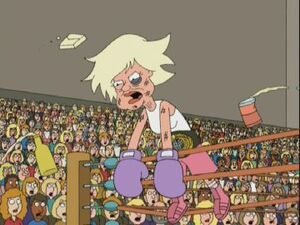 Carol Channing (born January 31, 1921) is an actress and singer known for originating the roles of Dolly Levi and Lorelai in Hello, Dolly! and Gentlemen Prefer Blondes, respectively.
She is seen in "Patriot Games" where she participates in Celebrity Boxing with Mike Tyson. She wins by forfeit from Tyson after tiring him out. Her victory cost Brian $50 in a bet with Stewie.
Ad blocker interference detected!
Wikia is a free-to-use site that makes money from advertising. We have a modified experience for viewers using ad blockers

Wikia is not accessible if you've made further modifications. Remove the custom ad blocker rule(s) and the page will load as expected.