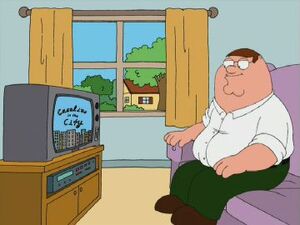 Caroline in the City is an American situation comedy that ran from September 21, 1995 to April 26, 1999 on the NBC television network. It starred Lea Thompson as cartoonist Caroline Duffy. She is shown in many episodes spending a lot of time with her dates or lovers and meddling in the lives of those around her.
In "The Son Also Draws", Peter pretends to by gay by watching the show.
Ad blocker interference detected!
Wikia is a free-to-use site that makes money from advertising. We have a modified experience for viewers using ad blockers

Wikia is not accessible if you've made further modifications. Remove the custom ad blocker rule(s) and the page will load as expected.