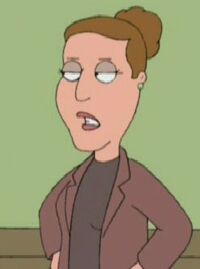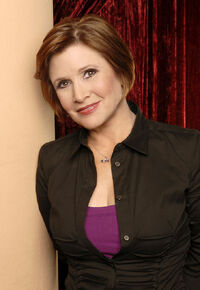 Caroline Frances Fisher is an American actress, screenwriter and novelist. She is most famous for her portrayal of Princess Leia in the original Star Wars trilogy and her bestselling novel Postcards from the Edge. She will reprise her role as Princess Leia in Star Wars: Episode VII. [1]
She has a recurring voice role as Peter Griffin's boss Angela at the Pawtucket Brewery. The character first appeared in the episode "Jungle Love" and was heavily featured in "Whistle While Your Wife Works" and "Peter-assment".
Her role as Princess Leia is assumed by Lois Griffin in the Family Guy Star Wars parodies, entitled Blue Harvest, Something, Something, Something, Dark Side, and It's A Trap!.
Her mother, actress Debbie Reynolds guest starred as Mrs. Wilson in the episode "Tales of a Third Grade Nothing", an episode in which Fisher's character also appeared.