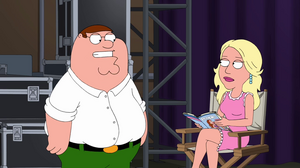 Carrie Marie Underwood (born March 10, 1983) is an American country music singer, songwriter, and actress.
The guys travel to the Country Music Awards in Nashville to see Carrie in "3 Acts of God" when they believe she has a connection to God. However, her answers fail to satisfy their need and they leave as her boyfriend Jesus demands $40 to buy a Toby Keith hat.
Jesus tells about a bad date with Carrie Underwood in "The 2000-Year-Old Virgin".
Ad blocker interference detected!
Wikia is a free-to-use site that makes money from advertising. We have a modified experience for viewers using ad blockers

Wikia is not accessible if you've made further modifications. Remove the custom ad blocker rule(s) and the page will load as expected.