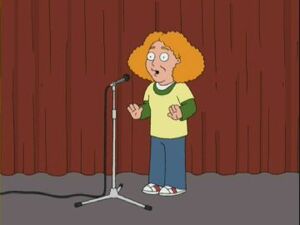 Scott Thompson (born February 25, 1965), better known by his stage name Carrot Top, is an American comedian known for his bright red hair, prop comedy and often self-deprecating humor.
He first appears in "The Son Also Draws" at the Geronimo's Palace casino as "Carrot Scalp".
He later appears as the new owner of the Deceased Indian Chief's skull in the "Petergeist". Peter Griffin finds him hilarious. He is found after the owner of the dump says Thompson always comes to collect items from the human remains bin. After Peter visits his house and finds that he is using the skull as a comedy prop, Thompson sets a trap that sends Peter to a bottom floor. When Peter returns Thompson reluctantly returns the skull and tells some prop jokes that were quite funny. He provides his own voice.
Ad blocker interference detected!
Wikia is a free-to-use site that makes money from advertising. We have a modified experience for viewers using ad blockers

Wikia is not accessible if you've made further modifications. Remove the custom ad blocker rule(s) and the page will load as expected.