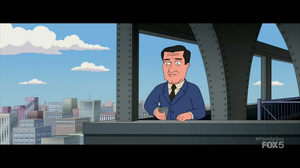 Cary Grant (born Archibald Alexander Leach; 18 January 1904 – 29 November 1986) was an English-born American stage and Hollywood film actor who became an American citizen in 1942. Cary is known for his work in Bringing Up Baby, His Girl Friday,Arsenic and Old Lace, An Affair to Remember and North by Northwest.
In "Peternormal Activity", Quagmire notes that with working cell phones, movies would be only two minutes long. In a cutaway gag of An Affair to Remember, Deborah Kerr is able to notify Cary Grant by cellphone that she can't make their date at the Empire State Building after being struck by a car. However, when he finds out that she may be paralyzed, he blows her off and hangs up.
Cary Grant is voiced by Seth MacFarlane.
Ad blocker interference detected!
Wikia is a free-to-use site that makes money from advertising. We have a modified experience for viewers using ad blockers

Wikia is not accessible if you've made further modifications. Remove the custom ad blocker rule(s) and the page will load as expected.