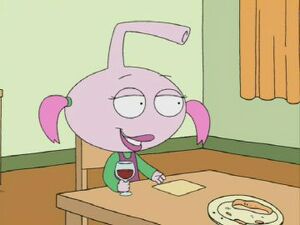 Casey Kelp is one of the Snorks, a 1980s cartoon show that was inspired by The Smurfs.
In "Brian the Bachelor", She is having dinner with AllStar Seaworthy. She bends over and Allstar gets a peek at her panties, giving his snorkel an erection.
She was voiced by Nancy Cartwright, although in the original series she provided the voice of Daffney Gilfin, another Snork.
Ad blocker interference detected!
Wikia is a free-to-use site that makes money from advertising. We have a modified experience for viewers using ad blockers

Wikia is not accessible if you've made further modifications. Remove the custom ad blocker rule(s) and the page will load as expected.