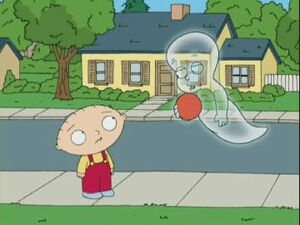 Casper the Friendly Ghost is the protagonist of the Famous Studios theatrical animated cartoon series of the same name. As his name indicates, he is a ghost, but is quite personable. According to the 1995 feature film Casper, his family name is McFadden.[1]
In "Stewie B. Goode", the first segment of Stewie Griffin: The Untold Story, Stewie Griffin reveals he caused Casper's death by a ball throw gone awry. Casper forgave him, because he was going to kill himself a few days later anyway.
Casper is voiced by Rory Thost.
Ad blocker interference detected!
Wikia is a free-to-use site that makes money from advertising. We have a modified experience for viewers using ad blockers

Wikia is not accessible if you've made further modifications. Remove the custom ad blocker rule(s) and the page will load as expected.