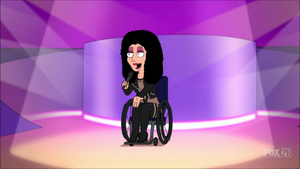 Catherine Marcelle Reitman (born April 28, 1981) is an American actress and film critic, known for her work in The Real Wedding Crashers, Knocked Up, It's Always Sunny in Philadelphia, How I Met Your Mother, and Weeds.
Catherine provides assorted voices, including "Wheel-Cher" in "Burning Down the Bayit".
Ad blocker interference detected!
Wikia is a free-to-use site that makes money from advertising. We have a modified experience for viewers using ad blockers

Wikia is not accessible if you've made further modifications. Remove the custom ad blocker rule(s) and the page will load as expected.