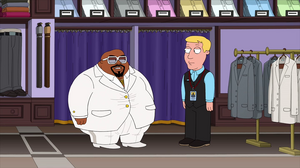 Thomas DeCarlo Callaway (born May 30, 1974), better known by his stage name Cee-Lo Green, is a singer-songwriter, rapper and record producer.
Cee-Lo goes shopping for pants in a cutaway in "The Book of Joe", describing them as something a cartoon apple would wear.
Ad blocker interference detected!
Wikia is a free-to-use site that makes money from advertising. We have a modified experience for viewers using ad blockers

Wikia is not accessible if you've made further modifications. Remove the custom ad blocker rule(s) and the page will load as expected.