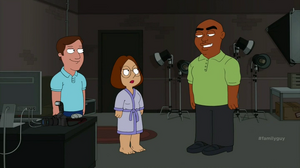 Charles Wade Barkley (born February 20, 1963) is a retired American professional basketball player. He earned eleven NBA All-Star Game appearances and was named the All-Star MVP in 1991.
Evan uses Charles to convince Meg that she is a great foot-fetish model in "This Little Piggy". As Charles raves about what he could do with Meg's feet, Evan assures her that they have a tranquilizer gun if he gets rough.
Ad blocker interference detected!
Wikia is a free-to-use site that makes money from advertising. We have a modified experience for viewers using ad blockers

Wikia is not accessible if you've made further modifications. Remove the custom ad blocker rule(s) and the page will load as expected.