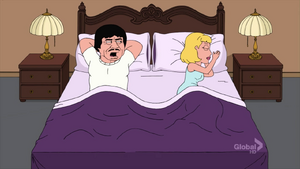 Charles Bronson (November 3, 1921 – August 30, 2003), born Charles Dennis Buchinsky was a Polish-American actor, best known for such films as Once Upon a Time in the West, The Magnificent Seven, The Dirty Dozen, The Great Escape, Rider on the Rain, The Mechanic, and the Death Wish series. He often cast in the role of a police officer or gunfighter, often in revenge-oriented plot lines.
When Lois gets separate beds after getting crushed by Peter in "Mr. and Mrs. Stewie", he complains that he needs to cuddle as all men do, even cold, unfeeling men like Charles Bronson. A cutaway shows Charles ordering his bed partner to scoot over to him.
Ad blocker interference detected!
Wikia is a free-to-use site that makes money from advertising. We have a modified experience for viewers using ad blockers

Wikia is not accessible if you've made further modifications. Remove the custom ad blocker rule(s) and the page will load as expected.