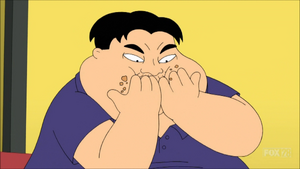 Charles Yamamoto was an eating champion that Chris Griffin defeats in "Killer Queen" in a hot dog eating contest by eating one hot dog more. He was so envious of Chris that he wanted to kill him. He frees Lois Griffin's brother Patrick Pewterschmidt from the asylum so it can appear that he was murdering the fat campers. He later shows up in Chris' bedroom late at night, and expresses his anger that Chris dishonored him. But when he tries to strangle Chris for beating him, Stewie Griffin shows him the cover of Queen's News of the World album. When he gets frightened by seeing the giant robot, he suffers a fatal heart attack and dies.
Yamamoto is a parody of real-life Japanese hot dog eating champion Takeru Kobayashi.
He is voiced by Robert Wu.