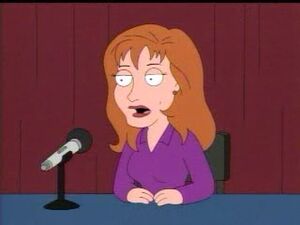 Cheryl Gates McFadden (born March 2, 1949), usually credited as Gates McFadden, is an American actress and choreographer. She is best known for portraying the character of Dr. Beverly Crusher in the Star Trek: The Next Generation television series and subsequent films.
She appears as herself in "Not All Dogs Go To Heaven" with her castmates because of that role. She answered questions at the convention and forcibly spent the day with Stewie Griffin afterwards.
Ad blocker interference detected!
Wikia is a free-to-use site that makes money from advertising. We have a modified experience for viewers using ad blockers

Wikia is not accessible if you've made further modifications. Remove the custom ad blocker rule(s) and the page will load as expected.