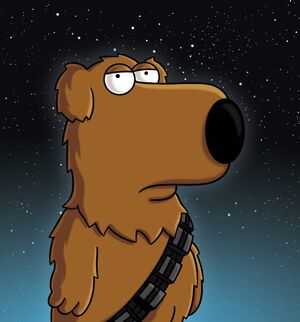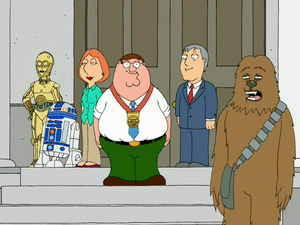 Chewbacca is a brown haired humanoid being and is one of the main characters in the Star Wars franchise. He is a Wookiee from the planet Kashyyyk, and serves as the co-pilot to the Millennium Falcon, along with his friend Han Solo.
In "Blind Ambition", Chewbacca appears at Peter Griffin's medal-awarding ceremony in a parody of A New Hope. He startled Mort Goldman.
In Laugh It Up Fuzzball: The Family Guy Trilogy, comprised of Blue Harvest, Something, Something, Something, Dark Side and It's A Trap! Chewbacca is played by Brian Griffin, paralleling Chewbacca's loyalty to Han Solo with Brian's to Peter.
Appearances
Ad blocker interference detected!
Wikia is a free-to-use site that makes money from advertising. We have a modified experience for viewers using ad blockers

Wikia is not accessible if you've made further modifications. Remove the custom ad blocker rule(s) and the page will load as expected.