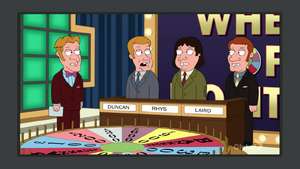 Chris O'Dowd (born 9 October 1979) is an Irish comedian and actor best known for playing Roy Trenneman in British sitcom The IT Crowd. He has also appeared in several Hollywood films, including Gulliver's Travels and Bridesmaids.
Chris voices that the Queen is dead and Rhys on Wheel of Politeness in "Chap of the Manor" in "Family Guy Viewer Mail No. 2".
Ad blocker interference detected!
Wikia is a free-to-use site that makes money from advertising. We have a modified experience for viewers using ad blockers

Wikia is not accessible if you've made further modifications. Remove the custom ad blocker rule(s) and the page will load as expected.