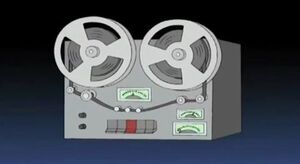 Christian Charles Philip Bale is an English actor. In addition to starring roles in big budget Hollywood films, he has for long been heavily involved in films produced by independent producers and art houses, including American Psycho and The Fighter, for which Bale won an Academy Award for Best Supporting Actor in 2011.
The original broadcast version of "Ocean's Three and a Half" has an audio recording of Bale yelling at Peter Griffin that parodied the viral recording on YouTube of Bale yelling at director of photography Shane Hurlbut while filming on the set of Terminator: Salvation. The recording was taken in February 2009 after Hurlbut supposedly walked into Bale's eyeline during filming of the most emotional scene of the film and is also laden with profanities. The scene was dropped from all rebroadcasts and the DVD, not even included as a deleted scene.
Listen
Ad blocker interference detected!
Wikia is a free-to-use site that makes money from advertising. We have a modified experience for viewers using ad blockers

Wikia is not accessible if you've made further modifications. Remove the custom ad blocker rule(s) and the page will load as expected.