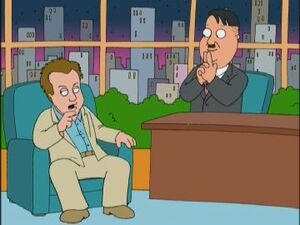 Christian Michael Leonard Slater is an American actor who has starred in films such as Heathers, Kuffs, and True Romance.
In "Death Is a Bitch", Death asks Peter Griffin to imagine if Adolf Hitler was still alive, and it is revealed he'd host a late-night talk show, called Hitler, with Slater as his guest.
Ad blocker interference detected!
Wikia is a free-to-use site that makes money from advertising. We have a modified experience for viewers using ad blockers

Wikia is not accessible if you've made further modifications. Remove the custom ad blocker rule(s) and the page will load as expected.