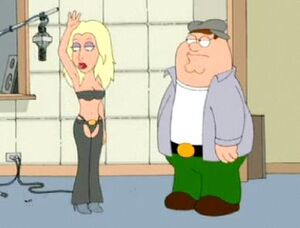 Christina María Aguilera (born December 18, 1980) is an American pop singer, songwriter and actress. Aguilera first appeared on national television in 1990 as a contestant on Star Search, and went on to star in Disney Channel's television series The Mickey Mouse Club from 1993–1994. Aguilera signed to RCA Records after recording "Reflection" for the film Mulan.
In "Peter's Got Woods", it was revealed Peter Griffin was once her manager. He despised everything about her. He claimed she sounded terrible, smelled terrible, told her he didn't get whatever she was supposed to be doing with her hands, and imagined if he touched her, she'd be sticky.
Ad blocker interference detected!
Wikia is a free-to-use site that makes money from advertising. We have a modified experience for viewers using ad blockers

Wikia is not accessible if you've made further modifications. Remove the custom ad blocker rule(s) and the page will load as expected.