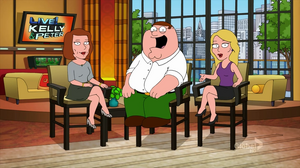 Christine Jane Baranski (born on May 2, 1952) is a Tony-Award winning[1] American stage and screen actress with noatle roles in the soap opera All My Children and the film Dr. Seuss' How the Grinch Stole Christmas and The Good Wife.
She provides her own voice in "Call Girl" when Peter is happy not to have to return to work on Live! With Kelly & Peter where she talks about her performances while Peter struggles to stay excited without knowing who she is.
Ad blocker interference detected!
Wikia is a free-to-use site that makes money from advertising. We have a modified experience for viewers using ad blockers

Wikia is not accessible if you've made further modifications. Remove the custom ad blocker rule(s) and the page will load as expected.