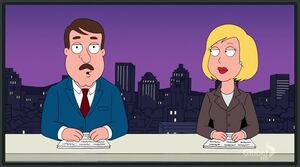 Christine Helen Lakin (born January 25, 1979) is an American actress. She is known for her role as Alicia "Al" Lambert on the 1990s ABC/CBS situation comedy Step by Step and as Joan of Arc in Showtime's Reefer Madness. She was also the sidekick on Craig Kilborn's Fox talk show, The Kilborn File. Lakin also stars in her own web series on hulu entitled "Lovin' Lakin", where Seth MacFarlane made a guest appearance.[1]
Lakin provides the voice of Joyce Kinney, the newest main Family Guy character as the new female co-anchor at Quahog 5 News.
Ad blocker interference detected!
Wikia is a free-to-use site that makes money from advertising. We have a modified experience for viewers using ad blockers

Wikia is not accessible if you've made further modifications. Remove the custom ad blocker rule(s) and the page will load as expected.