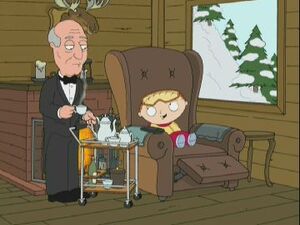 Chrone is Stewie Griffin's butler in "Road to Rupert". Stewie later uses him to dump hot tea in Timmy Cordray's eyes, causing him to drop Rupert, allowing Stewie to steal him back.
He was inspired by Jackie Gleason's Reginald Van Gleason III, the top-hatted millionaire with a taste for both the good life and the wild invention or fantasy manservant.
Ad blocker interference detected!
Wikia is a free-to-use site that makes money from advertising. We have a modified experience for viewers using ad blockers

Wikia is not accessible if you've made further modifications. Remove the custom ad blocker rule(s) and the page will load as expected.