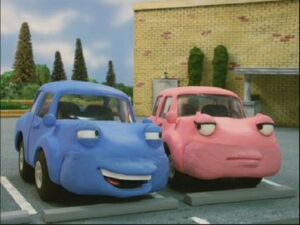 Chuck is a blue car who appears in a car commercial seen in "Deep Throats". In the commercial he flirts with a pink car which he believes is a female. The pink car turned out to be his male friend, Morty, who was painted pink. They are based on characters used in Chevron gasoline commercials of the late 1990s.
Ad blocker interference detected!
Wikia is a free-to-use site that makes money from advertising. We have a modified experience for viewers using ad blockers

Wikia is not accessible if you've made further modifications. Remove the custom ad blocker rule(s) and the page will load as expected.