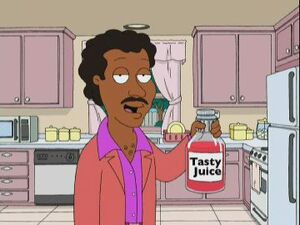 Charles Edward "Chuck" Berry (October 18, 1926 – March 18, 2017) was an American guitarist, singer, and songwriter. Berry was among the first musicians to be inducted into the Rock and Roll Hall of Fame on its opening in 1986.
Berry replaces Olivia Fuller as the spokesman for Tasty Juice juices in "Chick Cancer".
In "Meet the Quagmires", which parodies the first film in the Back to the Future series, his song "Johnny B. Goode" is replaced with Rick Astley's "Never Gonna Give You Up".
Ad blocker interference detected!
Wikia is a free-to-use site that makes money from advertising. We have a modified experience for viewers using ad blockers

Wikia is not accessible if you've made further modifications. Remove the custom ad blocker rule(s) and the page will load as expected.