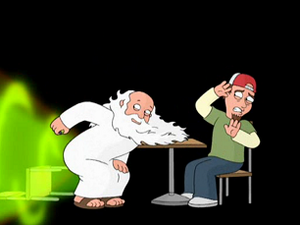 Chugs is God's roommate, according to Peter Griffin in "Untitled Griffin Family History". After God beat Chugs in a game of armwrestling by wafting a fart towards him and putting him off, God felt another one coming, and asked Chugs for his lighter. Using the lighter, God lit his fart, causing the "Big Bang" which created the universe.
Chugs is voiced by Chris Sheridan.
Ad blocker interference detected!
Wikia is a free-to-use site that makes money from advertising. We have a modified experience for viewers using ad blockers

Wikia is not accessible if you've made further modifications. Remove the custom ad blocker rule(s) and the page will load as expected.