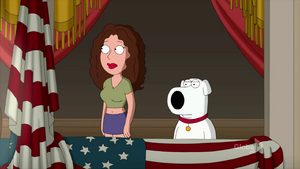 Cindy is a girl that Brian picks up in "Yug Ylimaf" at a bar who notes that the only way she knows she is pretty is when men have sex with her and believes Valentine's Day is on April 14. Brian gets into a one-upmanship contest with another bar patron and wins Cindy over when he claims he has a time machine. Taking her back home, he uses Stewie's time machine to take her back to the assassination of Abraham Lincoln at Ford's Theatre where they have sex in an adjoining balcony.
In "Valentine's Day in Quahog", Stewie gathers scores of Brian's former girlfriends including Cindy to get to the bottom of why he's unsuccessful in love.
Cindy is voiced by Ginger Gonzaga.
Ad blocker interference detected!
Wikia is a free-to-use site that makes money from advertising. We have a modified experience for viewers using ad blockers

Wikia is not accessible if you've made further modifications. Remove the custom ad blocker rule(s) and the page will load as expected.