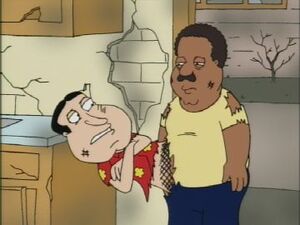 Clevemire is the result of a mutation after the events of Y2K in "Da Boom" that joins Glenn Quagmire's upper body to Cleveland Brown's hips. They both argue about their name after Peter Griffin says hello to them as Clevemire. Quagmire however, thinks they should be called Quagland. They fight and eventually Lois stops them. Unfortunately Cleveland doesn't feel like making love to Loretta because of this.
Ad blocker interference detected!
Wikia is a free-to-use site that makes money from advertising. We have a modified experience for viewers using ad blockers

Wikia is not accessible if you've made further modifications. Remove the custom ad blocker rule(s) and the page will load as expected.