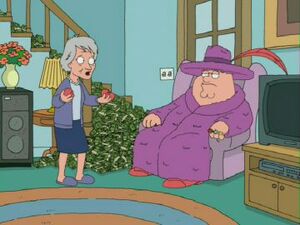 Cloris Leachman (born April 30, 1926) is an American actress of stage, film and television. She has won eight Primetime Emmy Awards and one Daytime Emmy Award. She co-starred in the 1971 film The Last Picture Show for which she won the Academy Award for Best Supporting Actress.
She appeared in "Petarded" when Peter Griffin fantasizes what he would do if awarded a MacArthur Genius Grant; 'buying' Leachman to juggle bean bags. Leachman provided her own voice for the episode.
Ad blocker interference detected!
Wikia is a free-to-use site that makes money from advertising. We have a modified experience for viewers using ad blockers

Wikia is not accessible if you've made further modifications. Remove the custom ad blocker rule(s) and the page will load as expected.