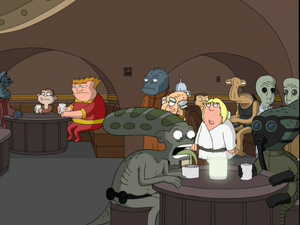 Coach McGuirk is the alcoholic, short-tempered soccer coach of Brendon Small in the animated series Home Movies which lasted from 1999 to 2004. Coach McGuirk was voiced by H. Jon Benjamin. Benjamin currently voices Carl on Family Guy.
Coach McGuirk appears in the Mos Eisley cantina scene in Blue Harvest having a drink with the Evil Monkey.
Ad blocker interference detected!
Wikia is a free-to-use site that makes money from advertising. We have a modified experience for viewers using ad blockers

Wikia is not accessible if you've made further modifications. Remove the custom ad blocker rule(s) and the page will load as expected.