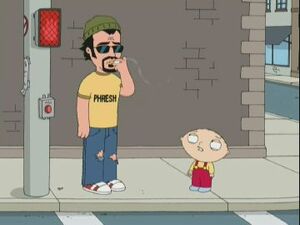 Colin James Farrell (born 31 May 1976) is an Irish actor, who has appeared in Hollywood films including Tigerland, Daredevil, Miami Vice, Minority Report, Phone Booth, The Recruit, Alexander, S.W.A.T., and In Bruges.
In "8 Simple Rules for Buying My Teenage Daughter", he is interviewed by Stewie Griffin, imagining himself as Jiminy Glick on the set of Primetime Glick.
In "Believe It or Not, Joe's Walking on Air", Stewie encounters him on a street corner and comments on what a rebel he is before he blows him up with a laser gun.
Peter dresses up as Mrs. Potato Head to attract Liam Neeson in "Fighting Irish" so they can fight, but instead, draws out fellow Irishman Colin Ferrell.