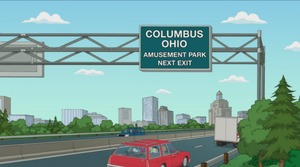 Columbus is the capital of and the largest city in the U.S. state of Ohio. Columbus is the third largest city in the American Midwest, and the fifteenth largest city in the United States of America. Named for explorer Christopher Columbus, the city was founded in 1812 at the confluence of the Scioto and Olentangy rivers, and assumed the functions of state capital in 1816 and is home to The Ohio State University, the nation's largest campus.
A deleted scene intended for "Quagmire's Baby" was recycled into "The History of the World – According to Family Guy" in the Family Guy Volume 9 DVD set. Christopher Columbus is unhappy that Amerigo Vespucci was getting a continent named after him, while he has to settle for Columbus, OH.
In "Amish Guy", the Griffins travel to Columbus in order for Peter to ride a new roller coaster. On the way back, the family breaks down in Amish country.
Ad blocker interference detected!
Wikia is a free-to-use site that makes money from advertising. We have a modified experience for viewers using ad blockers

Wikia is not accessible if you've made further modifications. Remove the custom ad blocker rule(s) and the page will load as expected.