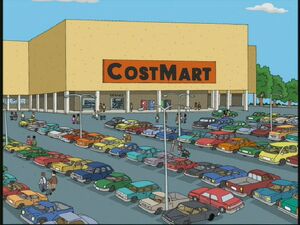 Costmart is a local store in Quahog, Rhode Island that sells items in bulk, similar to Sam's Club and Costco. Costmart sells various products from kidneys to superglue. It is unknown if it is a chainstore. It was first seen in "Stuck Together, Torn Apart", when the Griffins, Gallagher, Jeremy the Terminally ill Boy, his mother, Holden Caulfield, Peter Griffin lookalikes and Ross Fishman shopped here. Customers can get a free sample of everything there.
In "You Can't Do That On Television, Peter", Lois tries to shop but is attacked by children, including Stewie, who have seen her depicted as "Saggy Naggy" on Peter's children's show Petey's Funhouse.
Ad blocker interference detected!
Wikia is a free-to-use site that makes money from advertising. We have a modified experience for viewers using ad blockers

Wikia is not accessible if you've made further modifications. Remove the custom ad blocker rule(s) and the page will load as expected.