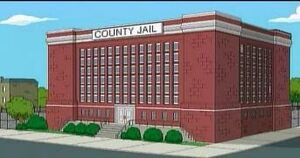 The County Jail is where Brian Griffin is held is held after he was arrested in Nancy Pelosi's office in "Excellence in Broadcasting"
When Rush Limbaugh refuses to join Brian in going to Washington D.C. to face Pelosi, Brian takes it upon himself to confront her. He gets arrested and thrown in here where he is bailed out by Limbaugh.
Ad blocker interference detected!
Wikia is a free-to-use site that makes money from advertising. We have a modified experience for viewers using ad blockers

Wikia is not accessible if you've made further modifications. Remove the custom ad blocker rule(s) and the page will load as expected.