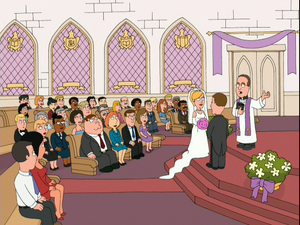 Cousin Mary is part of Peter Griffin's extended family. In "The Father, the Son, and the Holy Fonz", Peter's father Francis Griffin says that Peter hadn't embarrassed him so bad by founding his own church since Cousin Mary's wedding. At the wedding, Peter questions as to why no one is objecting to the wedding. When no one speaks up, Peter announces that the problem is due to genital warts.
Ad blocker interference detected!
Wikia is a free-to-use site that makes money from advertising. We have a modified experience for viewers using ad blockers

Wikia is not accessible if you've made further modifications. Remove the custom ad blocker rule(s) and the page will load as expected.