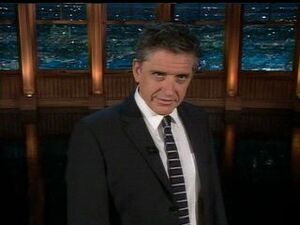 Craig Ferguson (born 17 May 1962) is a Scottish-American television host, stand-up comedian, writer, producer, director and actor. He is the host of The Late Late Show with Craig Ferguson, an Emmy Award-nominated, Peabody Award-winning late-night talk show that airs on CBS.
He appears as himself on the set of his talk show in live-action doing a snappy monologue about Lauren Conrad's relationship with Brian Griffin in "We Love You, Conrad".
Ad blocker interference detected!
Wikia is a free-to-use site that makes money from advertising. We have a modified experience for viewers using ad blockers

Wikia is not accessible if you've made further modifications. Remove the custom ad blocker rule(s) and the page will load as expected.