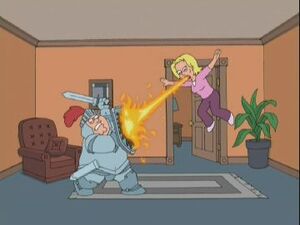 Cybill Lynne Shepherd (born February 18, 1950) is an American actress and former model. Her best known roles include starring as Jacy in The Last Picture Show, Maddie Hayes on Moonlighting, as Cybill Sheridan on Cybill, as Betsy in Taxi Driver and as Phyllis Kroll on The L Word.
In "The Fat Guy Strangler", Peter Griffin says he feels just as good after creating the National Association for the Advancement of Fat People as when he slayed the dragon. Peter is then seen as a knight, where he vanquishes Shepherd, the dragon.
The cameras used for The Real Live Griffins have a Cybill Shepherd filter, as mentioned by Stewie Griffin during filming in "Fifteen Minutes of Shame".
Peter tries to lie to Lois about seeing Cleveland Brown in "He's Bla-ack!", claiming to have an affair with Cybill by noting that she is obtainable to him now that she's older.