In Natick, Massachusetts, there was a factory, owned by Continental Bakeries, that made Twinkies. It was torn down in 2004 and its location made into an extension to the Natick Mall.[1]
Going by the airing date, this is the first episode in which Mila Kunis voices Meg.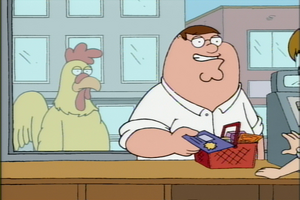 This episodes introduces us to the fight between Peter and the giant chicken. Peter flashes back to a fight with the giant chicken to explain to the man in the chicken costume why he doesn't accept coupons from giant chickens, beginning one of the show's best-known running gags.
After the citizens of New Quahog kick the Griffins out and slam the city gates, Brian is absent for several scenes. Only after they start walking down the road in a line does he return.
When Chris is singing "Left Foot, Right Foot" after they leave Randy Newman, he says "Left foot" when he puts his right foot down, and "Right foot" when he puts his left foot down.
The Griffin's clothes are ripped and tattered in a week after surviving the explosion in the safety of their basement.
Randy Newman was parodied as a senile man at a piano singing about everything he sees. Newman is voiced by Will Sasso, who was reprising the character from a recurring MADtv sketch.[2]
There is a cutaway of Peter feeding Tom Selleck on Magnum, P.I..
The Griffins encounter a band of survivors that play a parody of Family Feud.
Peter watches a special about Twinkee the Kid, where his family talk about his flamboyantly gay personality as a kid. A slang word for gay men, twink, itself an abbreviation of the gay slang term "twinkie," originally for very young, blond, pretty men.[3]