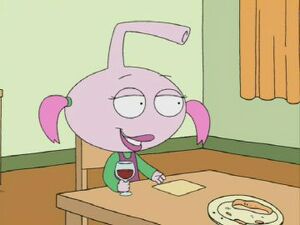 Daffney Gilfin is one of the Snorks, a 1980s cartoon show that was inspired by The Smurfs.
In "Brian the Bachelor", She is having dinner with AllStar Seaworthy. She bends over and Allstar gets a peek at her panties, giving his snorkel an erection.
She was voiced by Nancy Cartwright both in the original series and in this special appearance. Nancy is best known as the voice of Bart Simpson on The Simpsons.